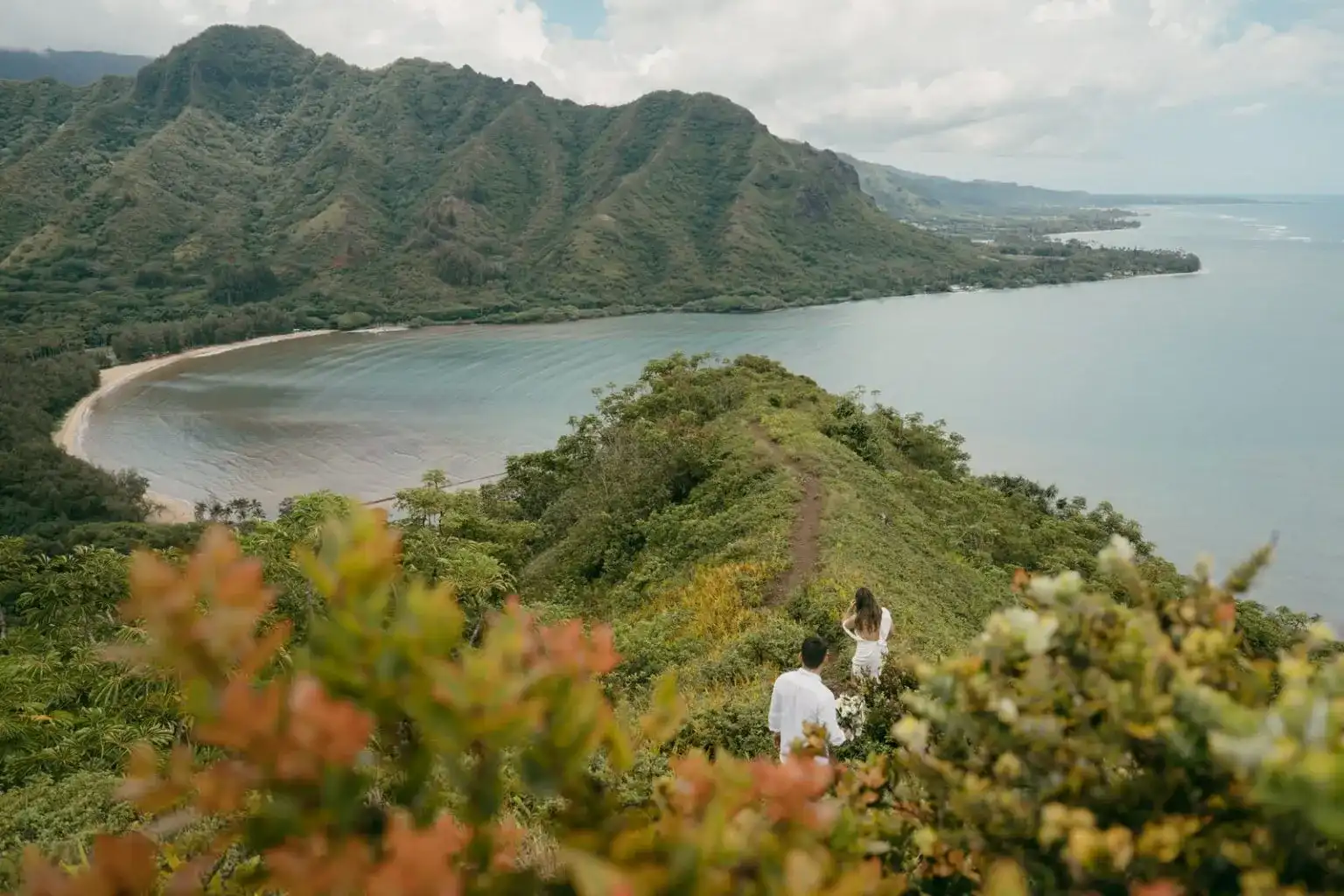 Congrats on your decision to ditch the big wedding and elope! Eloping is such a fun and intimate way for you and your partner to have a meaningful experience when you say "I do". And what better place to elope than Hawaii?!
Step 1: Choose your island
Of all the islands in the Hawaiian island chain, there are 6 that can be visited: Oahu, Maui, Kauai, Lanai, Molokai, and Big Island. Whether you want black sand beaches, crystal blue waters, or lush green mountain tops, each island has something of its own to offer.
Oahu
Oahu is the most populated of all the islands and is thus the most easily accessible. With more infrastructure and roads, you can get pretty much anywhere in under an hour without the need for off-roading vehicles. Just imagine a sunrise elopement on the Oahu's east side or saying your vows at an epic waterfall (or maybe both for an all-day Hawaii elopement). There are so many gorgeous locations to choose from, it'll be hard to narrow down to just one!
Noteworthy locations – • Waikiki • Waimanalo • Lanikai • North Shore • Kualoa Ranch • Makua Beach • Ka'ena Point State Park • Kahana Bay • Mokoliʻi (Chinaman's Hat) • Hanauma Bay • Makapu'u Lighthouse
Big Island
The Big Island of Hawaii offers many different geographical regions–if you're willing to rent a Jeep and make the drive. From breathtaking Volcano National Park to Punalu'u Black Sand Beach, you definitely won't be disappointed with your adventure, but keep in mind you'll be on the road. A lot. As the name implies, the island is BIG, so not as easy to get around in a short amount of time. But if you love being off-the-beaten track, Big Island might be the way to go!
Noteworthy locations – • Hawaiʻi Volcanoes National Park • Waipio Valley • Kahalu'u Beach Park • Waialea Beach • Punalu'u Beach • Hapuna State Beach
Maui
Maui boasts golden beaches, forested mountains, and endless sunshine which makes it the perfect place to elope in Hawaii. Imagine tying the knot for sunrise in the clouds on the dormant Haleakala volcano?! Sounds like incredible to me!
Noteworthy locations – • Lahaina • Kihei • La Perouse • Bay Kapalua Cliff House • Paia • Ali'i Kula Lavender • Haleakala • Iao Valley • Hana
Kauai
Even though I live on Oahu, Kauai has my heart. Kauai has so many amazing wonders and natural features that this island screams, "ADVENTURE ELOPEMENT!" Waimea Canyon is one of the most beautiful places I've seen and the Napali coast is breathtaking. The thought of an intimate ceremony on a small boat with the Napali coast in the background just about does it for me!
Noteworthy locations – • Hanalei Bay • Wailua Falls • Waimea Canyon • Napali Coast • Tunnels Beach • North Shore Falls • Kokee State Park • Puu Poa Beach
Lanai
Lanai offers so much untouched land and is the least inhabited of the 6 traversed islands. Lanai's tranquility makes for a great way to slow down, be present, and enjoy every moment of your Hawaii elopement with your partner.
Noteworthy locations – • Hulopoe Bay • Polihua Beach • Kaiolohia (Shipwreck Beach) • Manele Bay Road • Keahiakawelo (Garden of the Gods)
Molokai
Molokai is the least visited of all the Hawaiian islands. This allows for the island to maintain much of its natural beauty. Just imagine a private, picturesque elopement under the stars! But because it's so untouched and remote, finding accommodations and rentals cars can be a bit tricky. If this is the island you know you want to elope on, start planning travel early!
Noteworthy locations – • Kalaupapa National Historical Park • Papohaku Beach Park • Halawa Valley • Olo'upena Falls • Pu'uka'oku Falls • Pālāʻau State Park
I know this is a big decision! There's so many beautiful places that would be amazing for your Hawaii elopement, it can feel overwhelming. Let's put my expertise to work to help you find the perfect elopement location!
Step 2: Book your officiant and elopement photographer
For most elopements, a photographer and officiant are pretty much the only vendors you need to worry about booking in advance. I'd be more than happy to connect with you and hear more about your ideal experience. Do you want to have an officiant tag along on your adventure? Or just handle the paperwork at the courthouse? Let's figure out what works best for you!
Step 3: Book your flight and lodging reservations (this is your, it's really happening moment!
When checking out where and how to elope in Hawaii, it's good to figure out what time of year works best. Hawaii has warm weather year round but we do have rainy seasons. This could make some locations or islands more ideal than others. What's great is Hawaii also has such various topography and microclimates that we can (almost) always find a dry side. But with that in mind, ALWAYS has a plan B location you have discussed with your photographer. A thing to note as well, flights and lodging are typically more expensive in the winter and summer months. That's when we get an influx in tourism, so if you can visit Hawaii in-between those seasons, you'll likely save some money on travel and experience less crowds. Either way, any time of year is beautiful to elope in Hawaii!

Step 4: Apply for your marriage license
Applying for your marriage license in Hawaii is super simple! You must be 18 years of age to legally marry in Hawaii. The process is quite easy:
go online and fill out your marriage or civil union application
pay the $60 application fee (plus the $5 portal administration fee) and receive your slip.
Yourself, your partner, and a registered performer (officiant) must sign the license and the officiant will submit it to the state.
Once the license is issued, you'll have 30 days to file to make things official before the license is voided.
Step 5: Research and secure any necessary permits you will need for your elopement location! (P.S. I will do this for you!)
You can hit one location or a few! Once we decide on your elopement location, I can get started on acquiring the permits that you need. I'll handle all of this paperwork so you can focus on celebrating your special day!
Step 6: Get excited for your Hawaii elopement experience
This is truly a one of a kind adventure! What better way to kick off your marriage than with the ultimate Hawaii elopement? Not only will you have some amazing photographs, but you'll also get an intimate wedding that's tailored just to you. I seriously couldn't think of a more beautiful place to elope than in Hawaii!
If you like unconventional, nostalgic, compelling and soul-stirring photos,
I'm your person
I believe everyone's story is worth telling...& I'm a really good story-teller *brushes shoulders off*
If my words, my work, and my vibe resonates with you...I'd love to chat and hear about everything you are dreaming up ❤