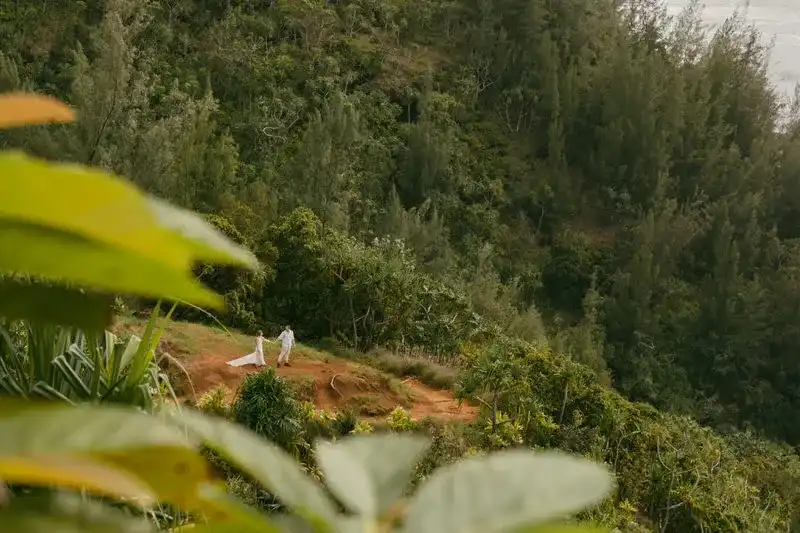 Picture saying "I do" during an intimate sunset beach ceremony or atop a mountain with 360 ocean views. Sounds like a dream, doesn't it? Well, it doesn't have to be. If a large, traditional celebration isn't your cup of tea, a Hawaiian elopement is calling your name.
Whether you're hitting the beach or trekking through the lush rainforests, Kauai is the spot for an adventurous elopement. All you need is your partner, a photographer (wink, wink), and this Kauai elopement guide.
WHAT IS AN ELOPEMENT?
If you believe less is more, an elopement might just be the way to go. But what exactly is an elopement? Picture a day (or week—I'm not judging) fully dedicated to celebrating your love in an intimate and authentic way. You don't need a traditional venue, over-the-top decor, or a long guest list to make for an unforgettable celebration. They're proof that there is no one-size-fits-all wedding.
WHICH SEASON IS PERFECT FOR ELOPING ON KAUAI?
There is no "bad time" to elope on Kauai. Every season you'll be met with great weather and views that make this the spot for a casual, yet-show-stopping celebration. With that being said, there are some things to keep in mind before finalizing a wedding date.
The summer months and holidays are typically the busiest, which means more tourists and higher prices. If you're looking to save money when it comes to travel costs and avoid crowds, I recommend planning your elopement during the spring (March-May) or fall (October-November) months.
THE BEST SPOTS TO STAY ON KAUAI
Being one of the most scenic islands, there's no shortage of places to stay on Kauai. There are a variety of hotels that fit every budget, desired amenities, and location. Here are a few of my personal favorites:
1. Koʻa Kea Resort on Poipu Beach
2. The Westin Princeville Ocean Resort Villas
3. Grand Hyatt Kauai Resort & Spa
KAUAI ELOPEMENT VENUES IDEAS
Intimate Wedding Venues
2. McBryde Garden is the ultimate tropical paradise. This 200-acre property is packed with tropical blooms, lush greenery, and even a secluded waterfall—the perfect backdrop for your Kauai elopement. The best part? They have a variety of wedding packages fit for every budget, size, and desired location.
2. Common Ground Kauai offers elopement packages and a variety of venue options on their property. Want towering mountains as your backdrop? You can have that. Want to exchange "I do's" next to a running koi pond? You can. The natural magic of this venue will make your special day even more special.
3. Grand Hyatt Kauai Resort & Spa is a venue will all the best views that Kauai has to offer. You have the choice of a garden, beach, or ballroom location. And if you thought a small celebration meant catering was off the table, you'll really be surprised. This spot makes your first married meal together matter, even for parties of two.
Hikes For A Kauai Elopement Ceremony
1. When you think of a Hawaiian elopement, odds are you immediately picture white sand beaches and crystal blue water. But that's not always the case. Your proof? Waimea Canyon State Park! With colorful canyons and hikes fit for all experience levels, it's no wonder why so many tie the knot in the "Grand Canyon of the Pacific". Keep in mind, out of town visitors without a valid Hawaii I.D. will be required to pay both an entrance fee and parking fee.
2. At the top of the Kuilau Ridge Trail—a moderately easy 3.6-mile, jungle hike—couples will be met with 360 views of the Makaleha Mountains. Though it is a muddy journey (don't forget your hiking boots!), the lush green mountains are an elopement backdrop that'll make the muddy trek well worth it. Plus it's dog-friendly, perfect for couples bringing their furry friends.
3. The Nounou Trail, also known as the Sleeping Giant, is one of the island's most popular hikes. With that being said you're sure to come across other hikers during your elopement. If this doesn't bother you then the stunning Wailua city skyline, caves, and tree tunnels are calling your name.
Kauai Beaches That Allow Elopements
1. Towering mountain, forest, or ocean views—why choose one when you can have all three at Tunnels Beach? This local-favorite spot is the ultimate oasis for couples wanting all that Kauai has to offer. It's also one of the top places to catch a sunset on the North Shore, which means golden hour portraits!
2. Hanalei Bay is the definition of romance. Located in a smaller city, this scenic beach makes for the perfect intimate elopement setting. Check out the historic Hanalei Pier or walk the two-mile stretch of white sand in search of a more secluded spot. Being one of the most photographed beaches, you're guaranteed to end up with some jaw-dropping Kauai elopement photos.
3. Located on Kauai's South Shore, Shipwreck Beach is a local favorite because of its crystal blue water, rugged coastline, and natural towering cliffs. Being one of the most visited Kauai beaches, it's the perfect location for sunrise celebrations. After exchanging vows, consider a post-elopement swim?!
Need more beach ceremony location ideas? Here are all the Kauai beaches that you can get a permit for:
Aliomanu Beach
Anahola Beach
Anini Beach
Beach House Beach
Cannons Beach
Donkey Beach
Haena Beach
Hideaway Beach
Ho'ona Beach
Kalapaki Beach
Kalihiwai Bay Beach
Kanaha Beach
Kaonohi Beach
Kapaa Beach
Kealia Beach
Keiki Cove
Kekaha Beach
Kiahuna Beach
Kikiaola Beach
Kilauea Bay
Kuhio Beach
Kukui'ula Beach
Larson's Beach
Leolani Cove
Lydgate Beach
Mahaulepu Beach
Makaiwa Beach
Moloaa Beach
Nukolii Beach
Pakala Beach
Pila'a Beach
Poipu Beach
Princeville Beach
Puu Poa Beach
Salt Pond Beach
Waiakalua Beach
Waikoko Beach
Wailua Beach
Wainiha Beach
Waioli Beach
Waipouli Beach
GET NECESSARY PERMITS AND MARRIAGE LICENSE
All the fun details have been sorted, but don't forget the most important elements of bringing your elopement to life—your permit and marriage license. Applying for your marriage license is as simple as filling out the online application, paying the license fee ($60 application fee + $5 portal fee), and verifying that you have a state-issued I.D. Once the license is issued, you'll have 30 days to tie the knot before the license is voided. If you have more questions, check out the official website here.
It's safe to assume that anywhere you choose to elope in Hawaii, that isn't a private venue, will require a permit. Though it's a fairly simple process, I'm always able to help my couples with location ideas and securing the right permits. For more information, you can find the official website here.
CELEBRATORY POST KAUAI ELOPEMENT DINNER IDEAS
Bar Acuda is serving up Mediterranean-inspired tapas, custom craft cocktails, and jaw-dropping views. Grab a seat for two under their covered lanai and enjoy a casual meal that doesn't lack flavor.
The Beach House is the spot for newlyweds. From the award-winning menu to the beachfront setting, it's the most romantic way to celebrate tying the knot. Plus being an oceanfront eatery, it's one of the top spots to catch a Kauai sunset.
Wine lovers, the Palate Wine Bar & Restaurant is calling your name. This small, wine bar is a Kauai hidden gem worthy of celebrating your love. On top of the relaxed vibe, this local favorite has a mouth-watering menu packed with wines and tapas that'll turn a quick meal into an all-day affair.
POST-ELOPEMENT ACTIVITIES-KAUAI ELOPEMENT GUIDE
1. Take A Private Helicopter Tour
Experience the beauty of Kauai from the sky on a thrilling, private helicopter tour. You'll be able to catch some incredible views that'll make you want to bring your photographer along to snap some cool couple portraits. Here are a few of my companies that'll make for an unforgettable post-elopement experience:
3. Air Kauai
2. Set Sail On A Sunset Adventure
A Hawaiian sunset sail might just be one of the most romantic ways to kick off your marriage. These companies will provide the boat, captain, and champagne. All you have to worry about is soaking up the sunset!
3. Rent ATVs
If you're looking to add a little adventure to your elopement getaway, add "rent ATVs" to the top of your must-do list. These tours will take you through a variety of landscapes and give you a once-in-a-lifetime off-road adventure deep in the unseen, unspoiled backcountry of Kauai's south shore.
1. Kauai ATV
Eloping on Kauai is truly a one-of-a-kind experience. From the stunning views to the endless venue options, I can't think of a more romantic and adventurous place to tie the knot. If you've decided to ditch the big wedding and elope, check out my step-by-step guide on how to elope in Hawaii.
Keywords: Kauai elopement guide, eloping on Kauai, Kauai elopement, how to elope in Hawaii, how to elope on Kauai
If you like unconventional, nostalgic, compelling and soul-stirring photos,
I'm your person
I believe everyone's story is worth telling...& I'm a really good story-teller *brushes shoulders off*
If my words, my work, and my vibe resonates with you...I'd love to chat and hear about everything you are dreaming up ❤