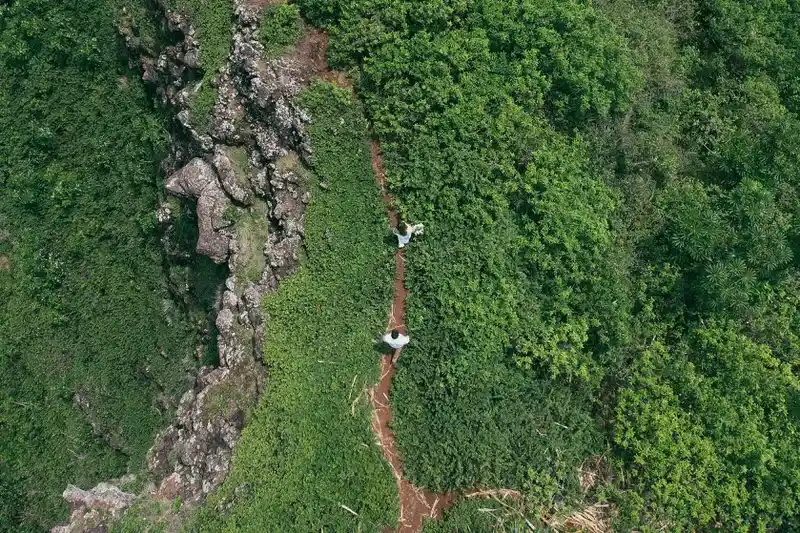 There is no one size fits all wedding. And a large, traditional celebration isn't for everyone. Some couples dream of an intimate party of two that prioritizes what matters most, their love. If this sounds like you, it's time to trade your traditional soiree for an adventurous Oahu elopement in the most romantic "I do" destination. Think stunning beaches, hikes, waterfalls, and recreational activities that make for an epic reception alternative. We're talking Oahu, Hawaii.
From the best places to stay to dreamy venue locations, and even celebratory reception ideas—here's the ultimate Oahu elopement guide.
WHAT IS AN ELOPEMENT?
Elopements are changing the wedding game for couples that dream of tying the knot in a casual, yet show-stopping way. They're proof that sometimes less is more when it comes to planning your big day. You don't need over-the-top décor, or a long guest list, or dated traditions to make for an unforgettable celebration. You can instead spend your budget on a memorable experience for you and you partner. And what better place to elope than Hawaii?!
The beauty of eloping is that it's all about you. Want a laid-back beach ceremony? Go for it. Dreaming of early morning mountain top vows? You can have just that. There are no rules when it comes to planning the Oahu elopement of your dreams, except having an incredible photographer (wink, wink) by your side.
WHICH SEASON SHOULD YOU ELOPE ON OAHU?
No matter which season you choose, you're sure to be met with great weather, views, and seasonal activities that'll make for an unforgettable celebration. While there is no "bad time" to elope on Oahu, there are some things to keep in mind before finalizing a wedding date.
The summer months and holidays are typically the busiest which means more tourists and higher prices. If you're looking to save money and avoid crowds, I recommend planning your elopement during the spring (March-May) and fall (October-November) months.
THE BEST SPOTS TO STAY ON OAHU
Being one of the most popular and accessible islands, there's no shortage of places to stay on Oahu. There are a variety of hotels that fit every budget, desired amenities, and location. Here are a few of my personal favorites:
1. The Four Seasons Resort Oahu at Ko Olina
2. Moana Surfrider, A Westin Resort & Spa, Waikiki Beach
3. The Modern Honolulu by Diamond Resorts
OAHU ELOPEMENT VENUES AND LOCATION IDEAS
Intimate Wedding Venues
1. Mal'ana Gardens is a beachfront venue that specializes in small celebrations for up to 20 guests. Their outdoor ceremony space is a tropical Hawaiian paradise with lush gardens, beach access, and a modern bungalow. Offering event planning and catering services, it's a match made in heaven for couples planning from far away.
2. Bayer Estate is a historic ocean-front property with both indoor and outdoor locations—talk about the best of both worlds. Tie the knot inside the historic Hawaiian estate or hit the private beach for secluded, seaside "I do's."
3. Haiku Gardens is an enchanting venue that will transport you into a jungle paradise. Nestled near the Ko'olau mountain range and on a quaint creek, Haiku Gardens is perfect for an intimate wedding on Oahu. It is also near Haleiwa Joe's restaurant so an easy choice for dinner!
Hikes For An Elopement Ceremony
1. Ka'ena Point State Park is home to Kaʻena Point—a moderately easy trail that walks you along the rugged coastline. Being a flat hike, it's fit for couples that want a dramatic shoreline backdrop without a long, strenuous hike. It's also one of the top spots to catch the sunset. Just picture golden hour vows surrounded by crashing waves and towering mountains—what a dream!
2. Kaiwa Ridge (Lanikai Pillbox) is one of Oahu's most popular year-round trails, for good reason. Though this 1.7-mile hike gets a lot of foot traffic, the stunning Kailua Bay and Ko'olau Mountain views make up for it. If you don't mind coming across other hikers during your ceremony, this spot is sure to make for memorable "I do's" (and some incredible photos)!
3. Pali Notches Trail is an intense hike that'll reward adventurous couples with some incredible towering mountain views. Being a difficult journey, this trail's an ideal spot to exchange intimate vows with just you, your significant other, and your photographer.
Oahu Beaches That Allow Elopements
1. Waimanalo Bay is a 3-mile white sand beach with crystal blue waters and lush forest greenery. During the weekdays it's a stunning, secluded location to get hitched and snap couple portraits to share with loved ones. Maybe even jump in for a post-elopement swim? The photo ops are endless.
2. Makapuu Beach is one of the most secluded beach spots that'll take your intimate elopement to a whole new level. Known for its deep blue waters and black lava rock cliffs, this hidden gem will make you feel like you're in your own private oasis. After your ceremony, you can hike up to the Makapuu Lighthouse for even more jaw-dropping views.
3. Makua Beach is calling your name if you're dreaming of a destination that lacks crowds but has stunning 360 views. No tour buses travel here, which means you're likely to have the turquoise waters and Makua Valley views all to yourself. Who wouldn't want to elope in a location like this?
Need more beach ceremony location ideas? Here are all the Oahu beaches that you can get a permit for via Wiki Permits:
Aki's Cove
Army Beach at Mokuleia Beach
Banzai Beach
Banzai Pipeline
China Walls Hawaii
Chun's Reef
Duke Kahanamoku Beach
Erma's Beach
Haleiwa Ali'i Beach
Haleiwa Army Beach
Haleiwa Beach
Halona Beach
Hanaka'ilio Beach Kahuku
Hauula Beach
Kahala Beach
Kaiona Beach
Kawaikui Beach
Ke Iki Beach
Kiapoko Place Beach
Kokololio Beach
Konane Kai Beach
Kualoa Beach
Kulamanu Beach
Lahilahi Point Shoreline
Laie Beach
Laniakea Beach
Lanikai Beach
Lanikuhonua Beach
Mahakea Beach
Maili Beach
Makaha Beach
Makaleha Beach
Makalei Beach
Malaekahana Beach 2
Mauna Lahilahi Beach
Nanakuli Beach
Nimitz Beach
Niu Beach
Pahipahi'alua Beach
Paiko Beach
Papailoa Beach
Paradise Cove Beach
Piliokahi Avenue
Portlock Beach
Puaena Point Beach
Punaluu Beach
Pupukea Beach
Pu'uiki Beach
Puuloa Beach
Sandy Beach
Sunset Beach
Tracks Beach
Tropic Shores & Castle Surf Beach
Turtle Bay Beach
Waialae Beach
Waimea Bay Beach
GET NECESSARY PERMITS AND MARRIAGE LICENSE
Now it's time to sort out the not-so-fun details—your permit and marriage license. Not sure if you're required to have a permit? It's safe to assume that anywhere you choose to elope in Hawaii, that isn't a private venue, will most likely require one. You can find the most up-to-date info here.
When it comes to applying for your marriage license, the process is simple. All you need to do it fill out the online application, pay the license fee ($60 application fee + $5 portal fee), and verify that you have a state-issued I.D. Once the license is issued, you'll have 30 days to tie the knot before the license is voided. Find the official website here.
CELEBRATORY OAHU DINNER IDEAS
La Mer is the ultimate dining spot for couples that want to splurge. This award-winning restaurant has a romantic atmosphere, ocean views, and locally sourced dishes worthy of celebrating your love.
Craving authentic Hawaiian cuisine? Grab a to-go dish from the Waiahole Poi Factory—a Hawaiian food and hand-pounded Poi restaurant, owned by native Hawaiians. Located near Waiahole Beach Park, you can lay out your picnic blankets for a casually delicious post-elopement meal.
3. HIRE A PRIVATE CHEF
After your elopement, stick with the intimate setting by hiring a private chef. You pick the location, they take care of the rest. It's truly an unmatched dining experience.
POST-ELOPEMENT ACTIVITIES
1. CHECK OUT WATERFALLS
There are so many reasons people elope in Hawaii. The waterfalls are one of those reasons. And if you're looking to switch up a day at the beach, Oahu's most beautiful natural waterfalls are calling your name. Here are a few of my favorite waterfall hikes that'll take your breath away:
1. Lulumahu Falls
2. Waimano Falls
3. Manoa Falls
2. GO ZIPLINING
Ziplining is one way for adventurous couples to explore and tour the island of Oahu. Zip through lush forests, over towering mountains, and even catch those panoramic ocean views. Here are a few Oahu zipline courses that'll make for an unforgettable post-elopement experience:
1. Kualoa Ranch Jurassic Valley Zipline
3. Oahu Zipline
3. TAKE A PRIVATE SURF LESSON
Hit the waves alongside experienced instructors in a private surf lesson. This true Hawaiian experience will be unforgettable, especially for couples. And remember you don't have to be good to have a good time! Here are some surf schools that offer private couple lessons:
Eloping on Oahu is truly a one-of-a-kind experience. From the stunning views to the endless venue options, I can't think of a more romantic and adventurous place to tie the knot. If you've decided to ditch the big wedding and elope, check out my step-by-step guide on how to elope in Hawaii.
If you like unconventional, nostalgic, compelling and soul-stirring photos,
I'm your person
I believe everyone's story is worth telling...& I'm a really good story-teller *brushes shoulders off*
If my words, my work, and my vibe resonates with you...I'd love to chat and hear about everything you are dreaming up ❤